Wall-mounted toilet with washbasin pack, model Trio 2, from SIAMP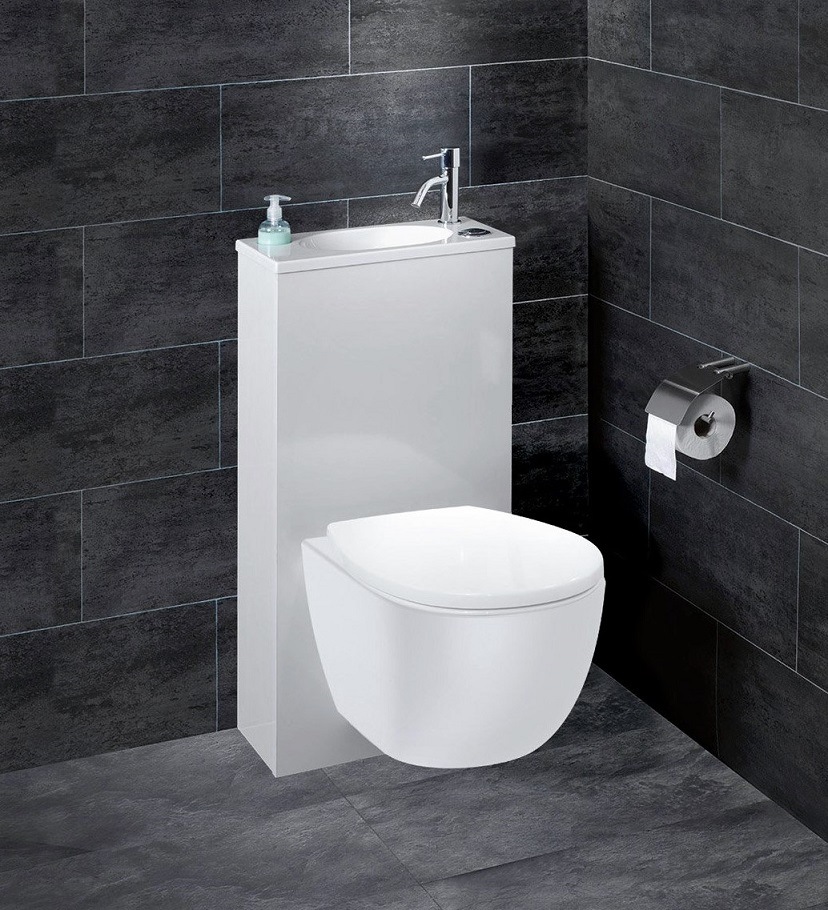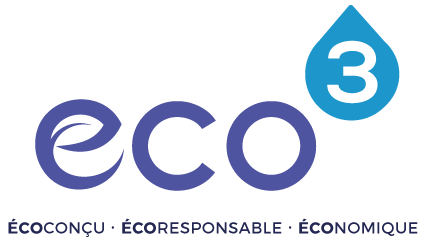 This suspended toilet with washbasin, the Trio 2 model from SIAMP, is an alternative to our WiCi Bati and WiCi Next models.
It works exactly like the water collecting the washbasin to fill the toilet and provides the same overall benefits: saving space, hygiene, convenience, water savings, etc.
We know it well for having developed and made some components, and have therefore decided to offer it to you at the same time as our own products!
However, the WC Trio 2 SIAMP pack presents technical differences with WiCi Bati and WiCi Next on a number of points:
Washbasin
The dimensions of the Trio 2 SIAMP washbasin are 50 X 20cm, compared with 60 X 25cm for WiCi Bati and 50 X 22cm for WiCi Next. Their depth is however equal (8 to 9cm).
The shape of the Trio 2 SIAMP washbasin is rather traditional, while on the WiCi Bati and WiCi Next models it is more modern (especially Design # 3, "sloping").
Find the gallery of WiCi Bati installations photos and the WiCi Next photo gallery.
The integrated soap dispenser is made of transparent plastic, instead of stainless steel chromed for WiCi Bati and WiCi Next.
The material is identical: it is a high-quality acrylic, pure white color, with anti-UV and antibacterial treatments.
Wall frame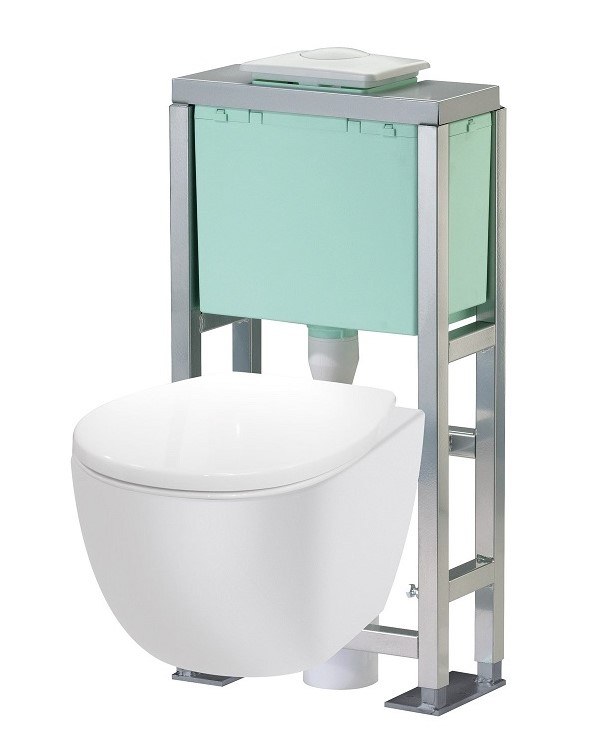 The wall frame of the WC Trio 2 pack is SIAMP brand, with a dual-key flush control. It has 4 feet and meets the NF standard (resistance to 400kg, evacuation performance, etc.)
For WiCi Bati and WiCi Next, these are wall frames of the Geberit reference brand, with pneumatic (by air) or mechanical (by tie rod) type of flushing controls. They consist of 2 feet and of course also meet the NF regulations.
In both cases (SIAMP and GEBERIT), the wall frame are self-supporting, which means that they can be installed against a so-called "fragile" wall (eg drywall), since the force is driven into the ground!
In both cases (SIAMP and GEBERIT) too, the support frames are of low height (about 80cm) in order to offer a good height of use to the hand washbasin (about 92cm)!
Dressing
The packaging of the WC Trio 2 SIAMP is a "box" made of white melamine 18 mm thick. It's ready to pose.

For WiCi Bati and WiCi Next, the dressing is to be made by your own means in a water repellent material (drywall, MDF, laminate, Wedi type foam).
Optionally, wall-to-wall dressings are offered: either in water-repellent MDF 19mm thick (to receive a tile finish) or in laminated melamine white, black or metallic gray.
Faucets and peripherals
The faucets and connection devices (power supply, drain) of the WC Trio 2 SIAMP are of good quality.
For our suspended toilet with washbasin models WiCi Bati and WiCi Next, they are of superior quality.
Personalization
The WC Trio 2 SIAMP is not at all customizable.
WiCi Bati and WiCi Next, on the contrary, can select different shapes of washbasins, taps, toilet bowls, etc. : All components are highly customizable to satisfy the needs in terms of design, comfort and budget. More than 1 million configurations can be generated on our online configurators!
Find the gallery of WiCi Bati installations photos and the WiCi Next photo gallery.
IMPORTANT NOTE

Here is a picture of the first model Pack WC "Trio" from SIAMP: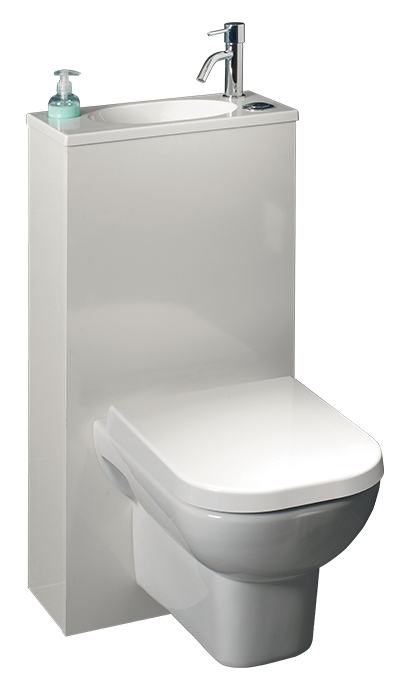 At WiCi Concept, we only offer the "Trio 2" model, the wall frame of which has been made more reliable and whose bowl is enlarged!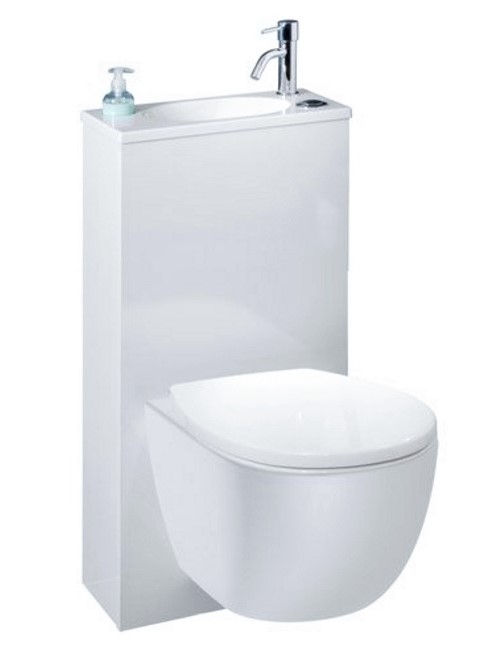 Technical details of the WC Trio 2 Pack SIAMP

Washbasin:
- Compact high-quality acrylic washbasin with anti-UV and anti-bacterial treatment
- Water saving: the washing water of the hands is also used to fill thetoilet tank
- With connecting elements
- Cold water tap only, brass chrome-plated
- Open plug, bright chrome
- Dispenser of liquid soap with pump, transparent plastic bottle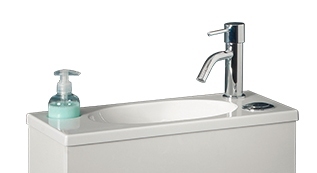 White decofast coating 800:
- Installed in less than 30 seconds: pre-assembled and pre-punched!
- 18 mm thick water-repellent melamine-coated chipboard
- Decorative white satin finish
- 2 years warranty
Wall frame:
- Wall frame VERSO BCS 800 Cable: fixing on load-bearing floor, control on top
- Water-saving float valve
- Flush set at 2.4 / 4 litres or 3/6 litres.
- Delivered complete with double button volume matt and bright chrome, bent evacuation kit
Cuvette WC :
- Cuvette suspendue Oéco : avec circuit conçu spécialement pour une petite chasse de 2,5 litres et une grande chasse de 4 litres
- Abattant Oéco : thermodur avec charnières ralentie à installation facile par le dessus
- SIAMP Trio 1 : cuvette petite et carrée. (Nous ne proposons pas ce modèle)
- SIAMP Trio 2 : cuvette grande et ronde. (Nous proposons ce modèle)
Toilet bowl:
- Oéco suspended bowl: with circuit designed especially for a small flush of 2.5 liters and a big flush of 4 liters
- Oéco lid: thermosetting polymer with soft close hinges, easy installation from the top
- SIAMP Trio 1: small and square bowl. (We do not propose this model)
- SIAMP Trio 2: large and round bowl. (We propose this model)
Dimensions :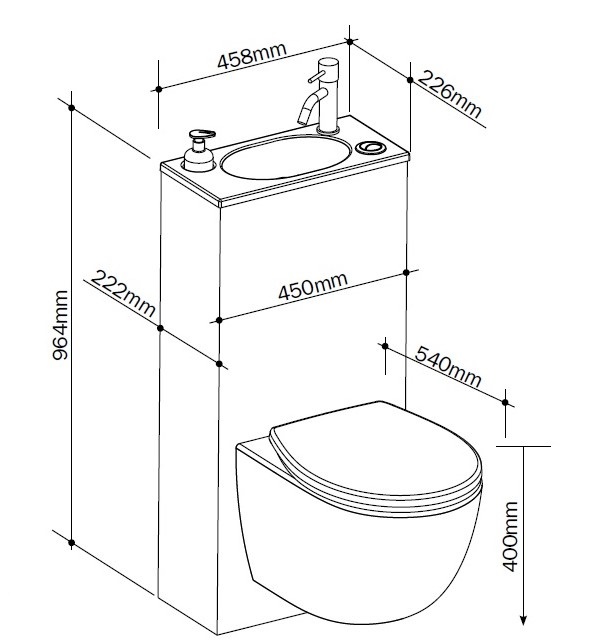 ---
Notes diverses
Payment
Payments for all of our equipment can be by check, wire transfer, credit card or Paypal : whichever is most convenient for you !
It is also possible to spread payments out over 3 months, at no additional cost : please take contact here.
Delivery Time

In order to provide fast delivery to you throughout France, and when needed, to respond to after-sales service just as quickly, we keep a complete inventory of all the components for our hand washing systems.
This is how, except in certain cases, the delivery of WiCi Boxi ® assemblies takes 3 to 5 days from the receipt of an order and related payment. However, please note that this lead time can be extended to up to 2 weeks for the order of a gloss finish casing due to its special production process (cut-out, paint, glaze) which is done individually, upon request.
Contact Information

We are at your disposal for any technical questions (adaptability, how products work, etc.) or logistics questions (ordering process, delivery, etc.) you may have.
As the creators and manufacturers of the WiCi Boxi ® product line, we will always be here to answer any questions you may have!
Do not hesitate to contact us at any time by email, telephone or through our contact form here.