WiCi Next ® wash basin incorporated in Geberit wall-mounted WC
All the best features of the WiCi Boxi kit, but more compact and more stylish!


Have you browsed the photo gallery of our product line and looked through our technical brochure and data sheet
Are you ready to design and price the WiCi Next ® of your dreams?
If so, this page is for you! :)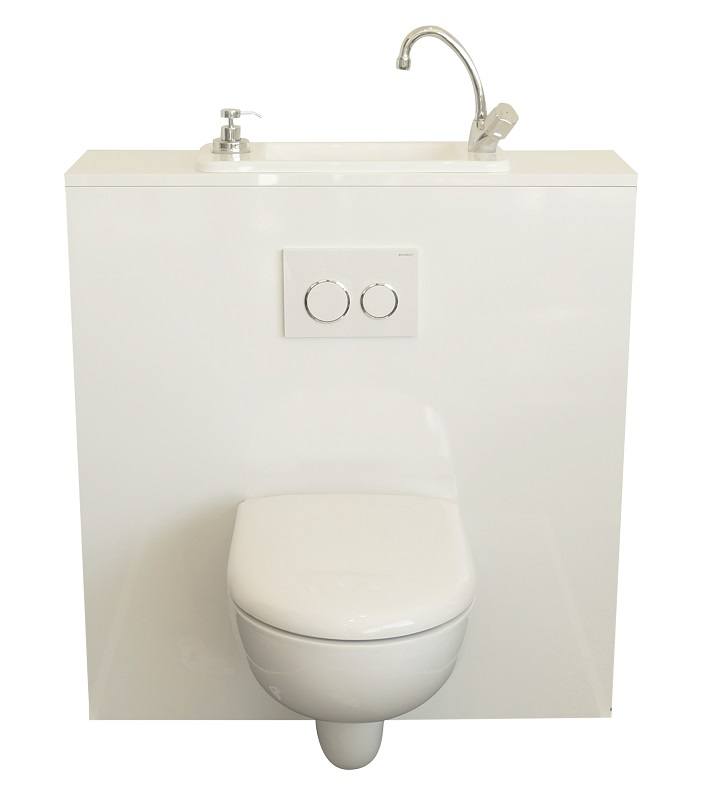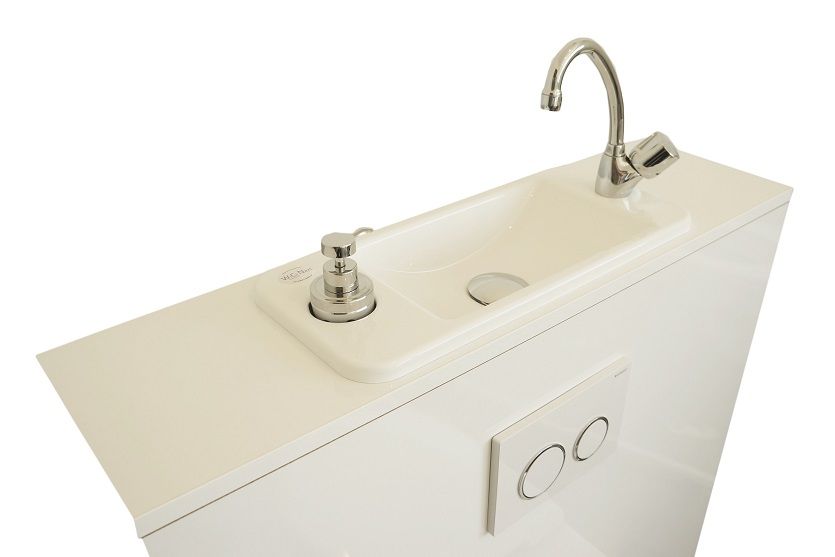 Benefits of a hand-wash sink incorporated in Geberit wall-hung toilets
Wall-mounted WC with basin fully integrated in the casing
Round edged basin (like a Smartphone)
Reversible left/right hand basin
Space saving, ingenious and more hygienic
Enable to save water
Range of options and accessories

Explore 600,000 possible ways to configure your WiCi Next ® from top to bottom, by choosing your
Tapware (10 options)
Wall support (2 options)
Flush control plate (9 options)
Wall support housing (3 options)
WC bowl (6 options)
Towel Holder (2 options)
WC spray hose (2 options)
The original version of the WiCi Next ® kit is the first one shown when you open the design tool below
Tapware: Roca Manual cold water tap
Wall support: Pneumatic Geberit frame
Flush control plate: Pneumatic type, White finish
Wall support housing: To be done by the customer
WC bowl: Conventional shape
WC spray hose: Without
Contents of the WiCi Next ® kit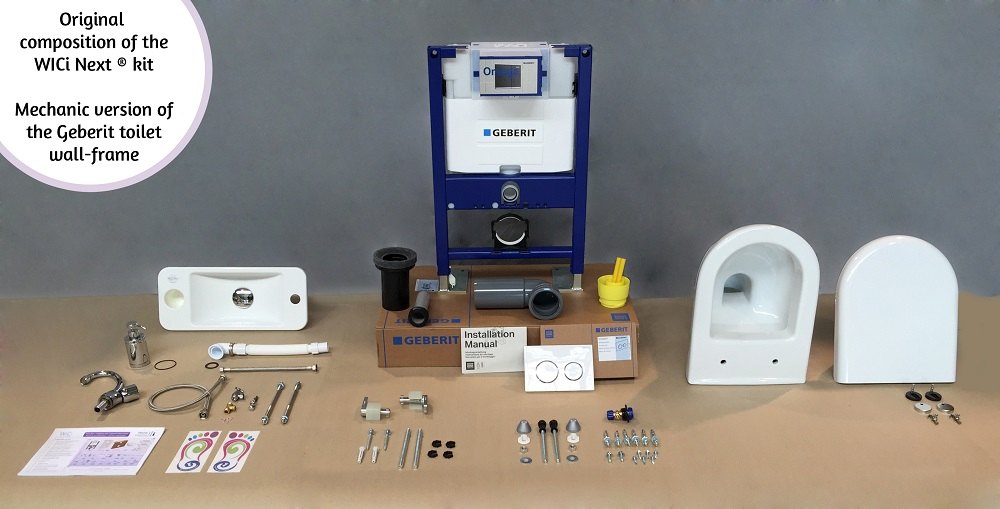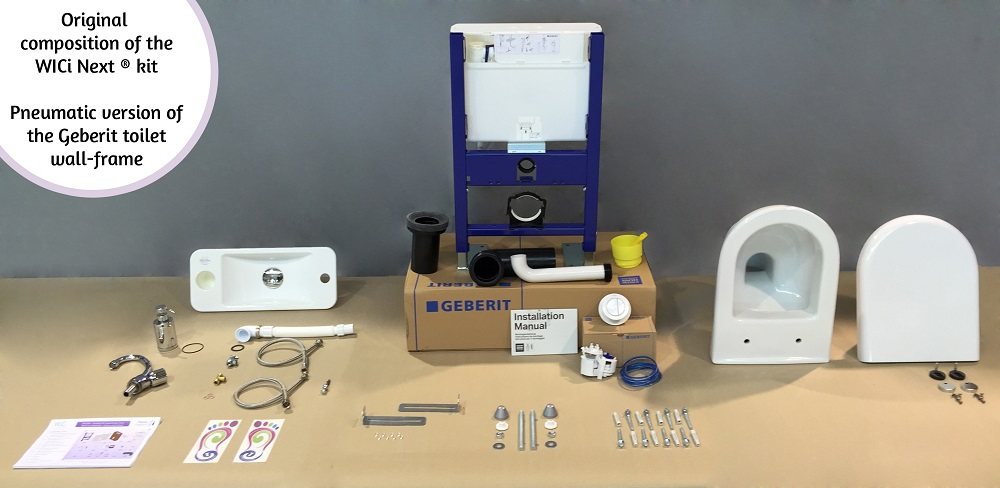 • WiCi Next ® hand wash basin, very high quality acrylic, bright white with antibacterial and UV protective coating, measuring 50 cm x 22 cm, double glazed for noise reduction, Design 1 ("Square")
• Chrome-plated stainless steel soap dispenser (holds 200 ml) integrated into the wash basin
• Manual cold water tap by Roca
• Chrome-plated free flowing "mushroom" plug
• 3/8" male T-junction with stop cock
• Flexible water input F3/8 - F1/2 (X2)
• Flexible ringed water outlet
• Reduced height Boxi support (82 cm) and free-standing Geberit support frame, white mechanical or pneumatic dual-flush control plate with 3/6 litre capacity, PVC outlet elbow measuring 100 mm in diameter, coupling hardware included
• Streached-out threaded rod for Geberit wall-support
• Freestanding Adesio design WC bowl by ALLIA, 52 cm in length, slowdescending and high end unclippable Zen design by Dubourgel
• Installation instructions are in colour with detailed descriptions and pictures, and written clearly and concisely in French or English
• "Good use" footprints
---
Additional Information


We attach great importance to the quality of our toilet washbasins, which is why we have selected suppliers and manufacturers of quality components.
However, if during the life of your WiCi you are experiencing a problem when using your toilet hand washbasin, we will ensure a high-quality after-sales service which will include:
_ telephone support + email whatever the age of the product
_ a 5-year warranty on Geberit wall-frames
_ a 2-year warranty on all other components (faucet, hand washbasin, suspended toilet bowl, piping, accessories, etc.)

Installation onto Geberit Wall Supports

WiCi Next ® is exclusively designed to be installed onto Geberit freestanding and low height wall supports (79 or 82 cm). The installation onto designs by any other new or existing manufacturers is not recommended for ergonomic and technical reasons.
WiCi Next ® wash basins are only available for purchase (without a wall support and WC bowl) by professional installers, whom we invite to contact us by email or telephone.
Additional WC Bowls or Tapware Choices

If you would like to equip your freestanding WC with a specific WC bowl or tap design, it is now possible!
We invite you to contact us by email or telephone to request a custom quote for the specific components you select.
Payments for all of our equipment can be by check, wire transfer, credit card or Paypal : whichever is most convenient for you !
It is also possible to spread payments out over 3 months, at no additional cost : please take contact here.
In order to provide fast delivery to you throughout France, and when needed, to respond to after-sales service just as quickly, we keep a complete inventory of all the components for our hand washing systems.
This is how, except in certain cases, the delivery of WiCi Boxi ® assemblies takes 3 to 5 days from the receipt of an order and related payment. However, please note that this lead time can be extended to up to 2 weeks for the order of a gloss finish casing due to its special production process (cut-out, paint, glaze) which is done individually, upon request.
We are at your disposal for any technical questions (adaptability, how products work, etc.) or logistics questions (ordering process, delivery, etc.) you may have.
As the creators and manufacturers of the WiCi Boxi ® product line, we will always be here to answer any questions you may have!
Do not hesitate to contact us at any time by email, telephone or through our contact form here.