WiCi Next compact hand wash basin
*** With the complete wall-mounted toilet components ***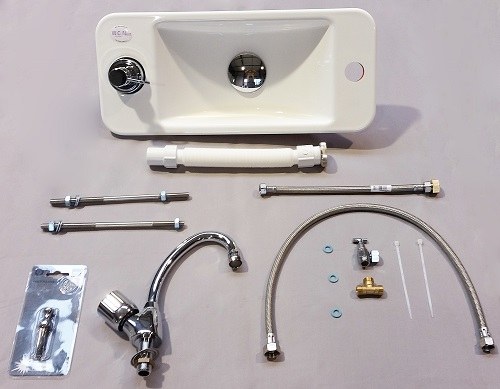 • WiCi Next ® hand wash basin, very high quality acrylic, bright white with antibacterial and UV protective coating, measuring 50 cm x 22 cm, double glazed for noise reduction, Design 1 ("Square")
• Chrome-plated stainless steel soap dispenser (holds 200 ml) integrated into the wash basin
• Manual cold water tap by Roca
• Chrome-plated free flowing "mushroom" plug
+
• 3/8" male T-junction with stop cock
• Flexible water input F3/8 - F1/2 (X2)
• Flexible ringed water outlet
• Streached-out threaded rod for Geberit wall-support
• Dietsche small chrome-plated towel holder
• Footprints for a better access
• Installation instructions are in colour with detailed descriptions and pictures, and written clearly and concisely in French or English


---
Additional Information:
We attach great importance to the quality of our toilet washbasins, which is why we have selected suppliers and manufacturers of quality components.
However, if during the life of your WiCi you are experiencing a problem when using your toilet hand washbasin, we will ensure a high-quality after-sales service which will include:

• Telephone support + email whatever the age of the product
• A 5-year warranty on Geberit wall-frames
• A 2-year warranty on all other components (faucet, hand washbasin, suspended toilet bowl, piping, accessories, etc.)


Payments for all of our equipment can be by check, wire transfer, credit card or Paypal : whichever is most convenient for you !
It is also possible to spread payments out over 3 months, at no additional cost : please take contact here.
In order to provide fast delivery to you throughout France, and when needed, to respond to after-sales service just as quickly, we keep a complete inventory of all the components for our hand washing systems.
This is how, except in certain cases, the delivery of WiCi Boxi ® assemblies takes 3 to 5 days from the receipt of an order and related payment. However, please note that this lead time can be extended to up to 2 weeks for the order of a gloss finish casing due to its special production process (cut-out, paint, glaze) which is done individually, upon request.
We are at your disposal for any technical questions (adaptability, how products work, etc.) or logistics questions (ordering process, delivery, etc.) you may have.
As the creators and manufacturers of the WiCi Boxi ® product line, we will always be here to answer any questions you may have!
Do not hesitate to contact us at any time by email, telephone or through our contact form here.