WiCi Mini wall-hung basin - 3 part wall-support
The WiCi Mini wall-hung basin kit contains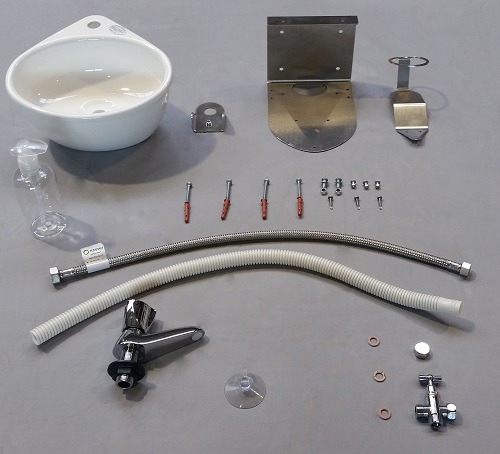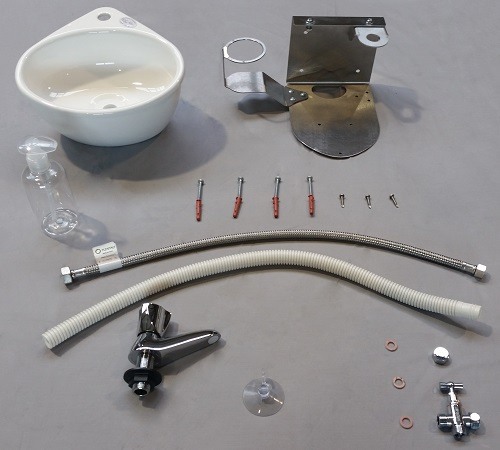 WiCi Mini ® hand wash basin, acrylic based, high quality with anti-UV and antibacterian treatment, pure white color, 21 cm x 21 cm size
Wall-support in steel, 3 parts

Manual cold water tap by Delabie ® : size, spurt and flow specifically adapted to the WiCi Mini ® hand wash basin

See-through liquid soap dispenser (250ml capacity) with its holder, to be suctionned or glued

Double faced suction pads or acrylic / ceramic glue (or both, as you please !)

Free-flowing plug with a stainless steel insert

Flexible water input and outlet pipes (length : 60cm)

Towel suction hook

Fastenings and seals

Assembly instruction, in color, ultra detailed
Configuration choice


To place your WiCi Mini ® wall-hung basin up against the wall, near the toilets, up to 60cm away.
We have developed two kits based on stainless steel boards (2mm thick), extended flexible water input and outlet pipes (1m long) and, of course, a complete set of fastenings for these elements.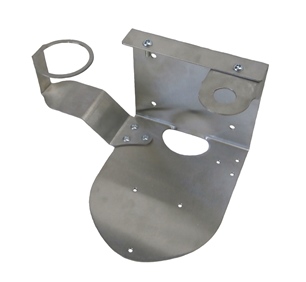 The 3 part design is mountable on a back wall, on a side wall or even in a corner. It is reversible in order to be adapted to all sort of settings and includes a stainless steel holder for the soap dispenser.
Miscellaneous note
We attach great importance to the quality of our toilet washbasins, which is why we have selected suppliers and manufacturers of quality components.
However, if during the life of your WiCi you are experiencing a problem when using your toilet hand washbasin, we will ensure a high-quality after-sales service which will include:

• Telephone support + email whatever the age of the product
• A 5-year warranty on Geberit wall-frames
• A 2-year warranty on all other components (faucet, hand washbasin, suspended toilet bowl, piping, accessories, etc.)


Payments for all of our equipment can be by check, wire transfer, credit card payment or Paypal : whichever is most convenient for you !
It is also possible to spread payments out over 3 months, at no additional cost : please contact us here.
In order to provide fast delivery to you, and when needed, to respond to after-sales service just as quickly, we keep a complete inventory of all the components for our hand washing systems.
This is how, except in certain cases, the delivery of WiCi Mini ® assemblies takes 3 to 5 days from the receipt of an order and related payment.
We are at your disposal for any technical questions (adaptability, how products work, etc.) or logistics questions (ordering process, delivery, etc.) you may have.
As the creators and manufacturers of the WiCi Mini ® product line, we will always be here to answer any questions you may have!
Do not hesitate to contact us at any time by email, telephone or through our contact form here.