WiCi Mini Kit ® The small hand wash basin
fitting on WC pack
The same features as its big brother WiCi Concept, at a tiny price !

You browsed our leaflet and the photo gallery on our website and are now convinced that you need a WiCi Mini hand wash basin ?
This page is made for you !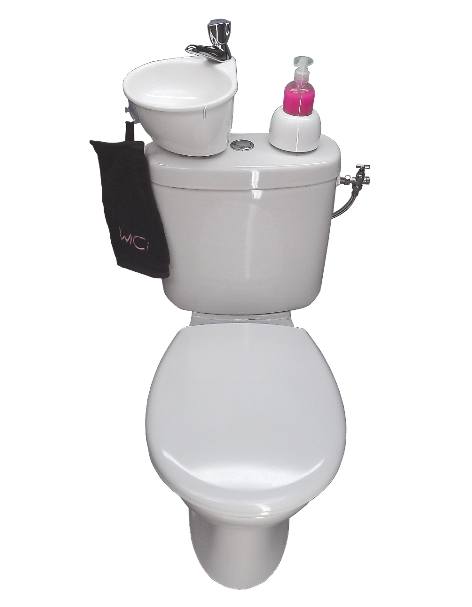 The benefits of the adaptable small hand-wash sink kit for WC
Fast and very easy to install
Half the price of parent product for similar functions
Can be fitted to WC or wall mounted with optional support
Space saving, ingenious, more hygienic
Water savings
Range of options and accessories
The kit contains


WiCi Mini ® hand wash basin, acrylic based, high quality with anti-UV and antibacterian treatment, pure white color, 21 cm x 21 cm size

Manual cold water tap by Delabie ® : size, spurt and flow specifically adapted to the WiCi Mini ® hand wash basin

See-through liquid soap dispenser (250ml capacity) with its holder, to be suctionned or glued

Double faced suction pads or acrylic / ceramic glue (or both, as you please !)

Free-flowing plug with a stainless steel insert

Specific Sanitie Jet T-junction (male-male-female, 3/8" standard with a stopcock : replaces your stopcock, whatever its configuration is

Flexible water input and outlet pipes (length : 60cm)

Towel suction hook

Fastenings and seals

Assembly instruction, in color, ultra detailed

Gustavsberg, Allia or Adesio WC pack
---
Miscellaneous note
We attach great importance to the quality of our toilet washbasins, which is why we have selected suppliers and manufacturers of quality components.
However, if during the life of your WiCi you are experiencing a problem when using your toilet hand washbasin, we will ensure a high-quality after-sales service which will include:

• Telephone support + email whatever the age of the product
• A 5-year warranty on Geberit wall-frames
• A 2-year warranty on all other components (faucet, hand washbasin, suspended toilet bowl, piping, accessories, etc.)


Adaptability on a toilet tank
Please, make sure your already installed toilet tank is compatible to a WiCI Mini ® basin before you order : the lid of the tank should be a clean flat surface, without any « wave », and be at least 12cm x 12cm large.
Please, check as well whether your tank has 2 connection holes, on the upper lateral sides : the one used for the original supply hole will maintained for the same purpose, while the other one will be used to inject the waters used for the washing of the hands.
Payments for all of our equipment can be by check, wire transfer, credit card payment or Paypal : whichever is most convenient for you !
It is also possible to spread payments out over 3 months, at no additional cost : please contact us here.
In order to provide fast delivery to you, and when needed, to respond to after-sales service just as quickly, we keep a complete inventory of all the components for our hand washing systems.
This is how, except in certain cases, the delivery of WiCi Mini ® assemblies takes 3 to 5 days from the receipt of an order and related payment. However, please note that this lead time can be extended to up to 2 weeks for the order of a gloss finish casing due to its special production process (cut-out, paint, glaze) which is done individually, upon request.
We are at your disposal for any technical questions (adaptability, how products work, etc.) or logistics questions (ordering process, delivery, etc.) you may have.
As the creators and manufacturers of the WiCi Mini ® product line, we will always be here to answer any questions you may have!
Do not hesitate to contact us at any time by email, telephone or through our contact form here.